Dennis in his Room
I have my own house, where I live half of the year. Sometimes I don't talk for a week to anybody there. In the summer I rent a room in a gay retirement home. I enjoy meeting people of my kind.
Fir Tree
I was married for thirty years. I loved my wife very much. If she hadn't died, we would be still together. After her death I was devastated.
Dennis in his Flight Costume
The thing I regret most is, that I didn't become an astronaut and never went into space.
Dennis in Stockings
The first time I dressed as a girl, I was eight years old. I don't want to be a woman. I am happy the way I am. I just enjoy the kick.
Dennis dressed up
I feel that I am transforming from a caterpillar into a butterfly. Sometimes I go out like this. If people don't like it, it is their problem.
Rae
I loved my girlfriend very much. We were true soul mates. I am very proud that I was with her for 43 years.
Rae and Rabbie
The first evening I met Rabbie, I got up to make a drink and I asked her: 'Can I make one for you too?' And she said: 'No, but you can come over and kiss me.' And damn it, if I didn't!
Rabbie's Ashes
This July was a tough month for me. There was our anniversary, Rabbies's birthday, and her day of death. Red is my favourite colour. She hated red, I didn't ask for the red and they brought her ashes to me like that. After that, I went and bought a red car.
Tree and Water
Rabbies's death was for me the most devastating thing in my life. I thought I would never get over it. I miss her so very much. When I die, our ashes will be mixed together and spread in the canyon.
The World is Ours
We had such a great life together. I do feel she is still around. Recently, they played this one strip song on the radio, we were always dancing to. I felt she gave me a sign 'I am still here'.
Rae in her Armchair
The pain is slowly getting better, though. I never thought it would. You tend to idealise people who are dead. Now there is no Saint Rabbie anymore but Saint Rae. I have to look after myself better.
Thelma in her Living Room
I got married for the first time when I was 15 years old. After my first husband I had two other and five children. I thought life was just about raising kids and being a mother.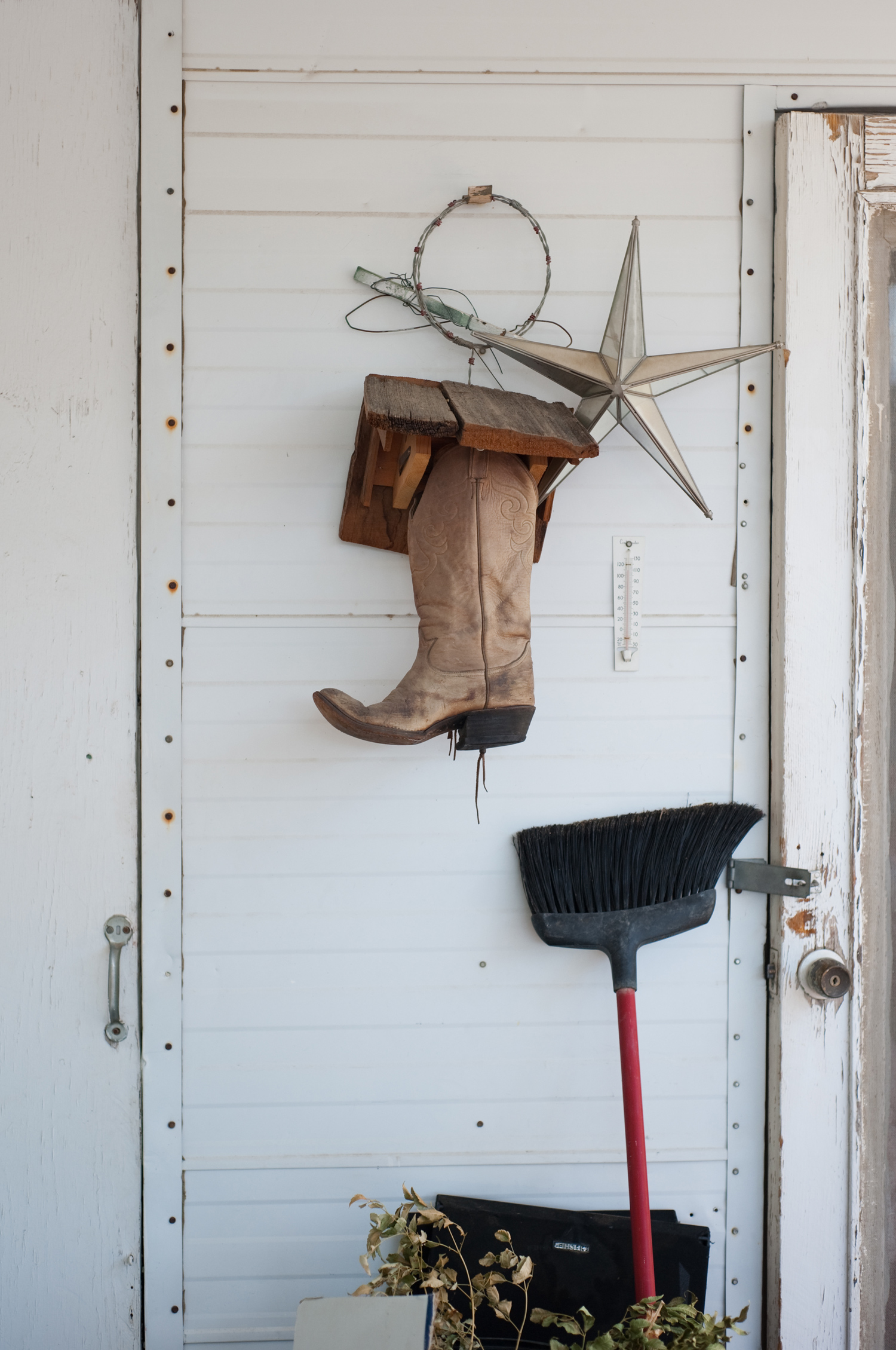 Thelma's Boot
My biggest fear is that I can't take care of myself anymore. This is what keeps me going. Every day.
Thelma's Vase
I fell in love for the first time four years ago. With Swede I had my teenage years, which I never had. He has the prettiest blue eyes. When he walks through my door, my whole body just warms up. This is a beautiful feeling, but when he is not there it is a terrible feeling.
Thelma
One day Swede went to see his son for seven weeks. The seven weeks turned into seven months. I got really ugly with him then. When he came back he didn't want to touch me anymore.
Squirrel
Things got difficult when we stopped agreeing. Once I started having my own say about things, Swede would go home. People often don't realize that everyone sees things differenty. This can be a problem.
Desert
My children can't understand me. They are not proud of me. But I hope one day they will remember me as a nice old lady.
Thelma's Garden
Slowly I am getting to the point, that I feel I have to move on. I am not a fool just waiting around. If Swede doesn't want me, I will get around without him.
Chris in his Bedroom
I am happy with my life. I have now been with my partner John for 36 years. It was not always easy, but definitely worth it.
Chris' Photo Album
John and I went through a lot together. In the 1980s we experienced how almost a whole generation of gay men got wiped out by Aids. Many of our friends in these pictures died within three years.
Chris and John
I was married to a woman for thirteen years. I had seven children with her. I am not only proud of them, but also that John and I raised them together.
Chris and his Dog
To lose my legs was not as difficult as I thought, my divorce and to admit that I am gay was much more difficult for me. But everything that is difficult in life makes you stronger.
Chris and John in the Pool
When I saw John for the first time, I knew my ship had arrived. Meeting him was the best thing in my life.
At Gay Church
Ending a relationship is very easy. So many people just walk away from it, while with a little work they just could have stayed together. You have to grow together.
Roy at Home
My first wife was beautiful. I married her when she was fifteen and I was twenty-one. Six years after, she left me for another man. They moved away then. I would have loved to raise my children myself. This is my biggest regret in life. After that I never fell in love like that. I had other girlfriends, though.
Roy's Dog
Five people live in my house: me, my cat and my three dogs. It is enough space for all of us. I even have a room just for the cat.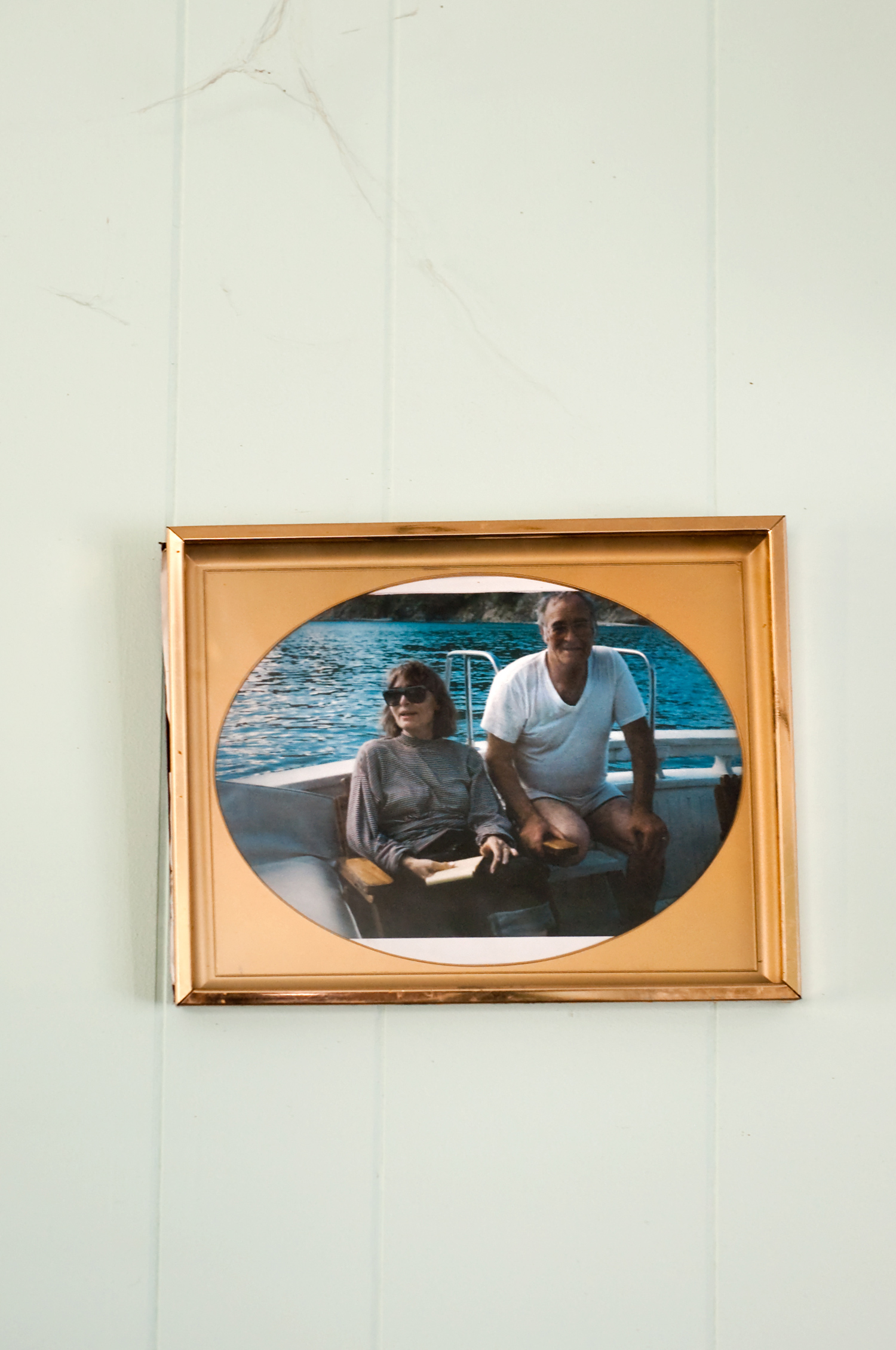 Roy and Geneva
I took my last girlfriend, Geneva, to Ireland for her 75 birthday. I bought her a crystal there. She is a beautiful lady. The only bad habit she has, is that she likes to gamble. There are different types of love. We love each other but there is no sexual attraction. That's one reason why we broke up after 15 years.
Roy in the Pool
I believe in love, but I think there is not just one right person for you. If you would have 100 people, you could probably pick at least ten, which could be right for you. It is just compatibility here and there.
Roy in the Water
A couple of years ago I had a heart attack. I have to take medication for my heart now. Since then I have slowed down a lot sexually.
Mountain in the Desert
I don't fear anything, really. I don't fear death although at eighty years old I don't like the idea of not being around for too much longer. I am proud that I had a good life. I have done everything I wanted to do and enjoyed everything.