Tomatoes I, 2012
In order to have total control over the nutrients and the irrigation, tomatoes are planted in sterile material such as rock wool and not in soil. By doing so the tomatoes are according to the growers less likely infected by diseases, a smaller amount of pesticides is needed and the yield can be increased.
Lettuce, 2011
Lettuce is grown in a stacking system to provide a maximum use of space. Plants grow inside of plastic trays without soil. A conveyer belt is moving the plants to ensure they get all round sunlight. The whole growing process is computer controlled. The system currently produces around 112 lettuces per square metre, on a 3m high system.
Cress, 2011
Cress, tomatoes, cucumbers, or lettuce are grown in closed systems just with LED lights. There is no sunlight and no direct exchange of air with the outside. Day and night, summer and winter stop existing. Humans are able to determine the shape, taste and colour of plants and fruits. They can be grown anywhere from the desert to inside of restaurants and supermarkets.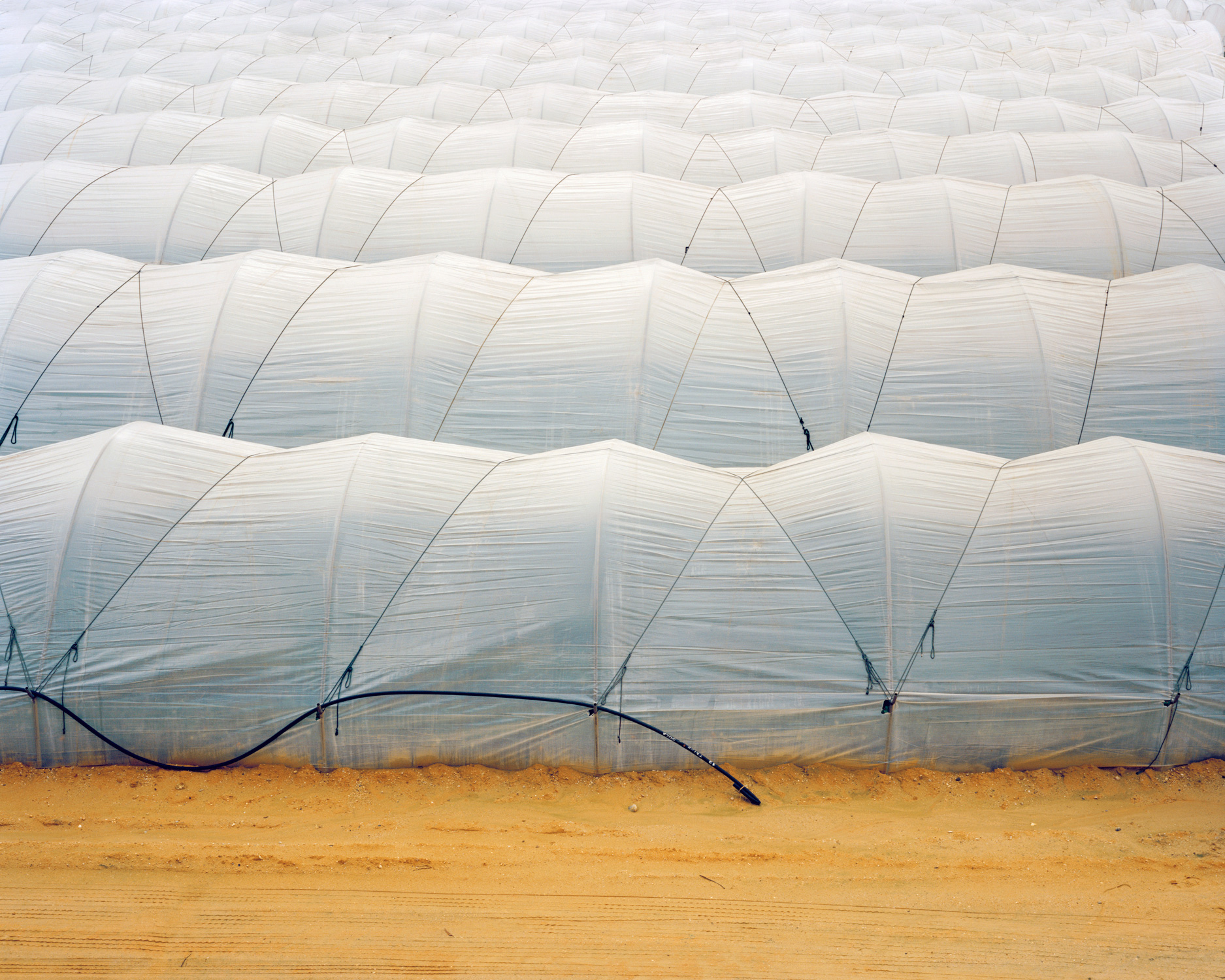 Berry Field, 2013
Polytunnels protect berries from rain, strong winds and bright sunlight. Temperature, humidity and ventilation can be controlled by equipment fixed in the polytunnels.
Strawberry Field, 2012
A plastic film prevents weed growth and erosion. Fleece protects strawberries from frost, which allows to plant and harvest them at times usually considered off season.
Eggplants, 2012
A computer manages precisely the irrigation, the nutrients given to the plants and also the climate inside the green house. Automatically windows open, sunscreens move and waste, water and nutrients are collected, purified, and recycled.
Tomatoes II, 2011
In order to consume locally grown tomatoes in countries such as the UK or Germany, the tomatoes need to be produced in heated greenhouses. Locally grown tomatoes allow shorter distribution ways. To produce in more sustainable ways and to keep the cost of energy low the green house above is heated by the waste heat from a near by power station.
Strawberries, 2012
Strawberry crops are grown on table top raised beds. The table top system makes it easier to pick the fruits and eases the weed and pest control. A leaf and sap analysis determines the nutrient's compound, which is fed with the irrigation water. To accelerate the growth of the plants, growers above add CO2 from a close by Shell refinery.
Milking Robot, 2012
One milking robot milks three times per day 60 cows. The cows are in a stable, in which they can move around freely. They can use the robot whenever they need to. No human needs to be present.
Milking Parlour, 2012
Two people are needed to milk twice a day 300 cows.
Mushrooms, 2012
To allow an all year round production of mushrooms and to increase the yield, mushrooms are grown in a microclimate inside growing rooms. A stacking system maximizes the production per square meter.
Chicken, 2011
Since the mid 1990s the consumption of chicken has increased by 75 percent worldwide. Chicken are often reared in barns. One chicken barn has the capacity to rear 50.000 chickens.